The Development Practice suite of postgraduate Programs is very fortunate to have a rich and vibrant student community with students from many different countries and cultures. Our Alumni share some of their experiences about studying Development Practice at UQ.
If you're wanting to share your experience please get in touch with us at socialscience@uq.edu.au.
27. Dominique 'Nikki' Rubia -Tutay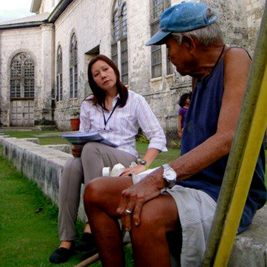 How did your study help you to get to your current role, and what does your current role involve?
I am implementing programs to encourage inclusive growth and poverty reduction in the Philippines, using the skills learnt in the Development Practice (Development Planning) program at UQ. As the Director for Planning Service in the Philippines Department of Labour and Employment I set in place job generating and safety-net interventions to mitigate the impact of the Global Financial Crisis, for which a Presidential Citation was received in 2010. In my role I closely coordinate and link with the Office of the President, the National Economic and Development Authority, and the Department of Budget and Management and other relevant national government agencies in moving forward plans and projects at the national level. I am now working on a project to map jobs generated under the nationwide Community-Based Employment Program. This is a priority project that provides employment to skilled and semi-skilled workers through the infrastructure and non-infrastructure initiatives of the government. I also monitor the progress of the various programs implemented locally, and provide management and information services to facilitate decision-making at the highest level.
What brought you to study the MDP?
My studies in Development Planning at UQ are behind the results focused approach when designing programs to alleviate poverty and encourage growth. I chose UQ specifically because it is one of the best schools in Australia in terms of development planning. I learnt a lot from the ArcGIS course, I find it an important tool in planning. I also appreciated learning about the rights-based approach to planning and programming, and the monitoring and evaluation of plans and programs. The prestige of having graduated with a Master of Development Planning at the University of Queensland was a big factor in helping me get my current position as Director of Planning Service of the Philippines Department of Labour and Employment.