Hunger and food insecurity affect increasing numbers of people in Brisbane and South East Queensland (SEQ). Local food justice and participatory democracy is at the centre of addressing this issue; it is also key for achieving the United Nations' Sustainable Development Goals. In response to this challenge, Sociologist Dr Kiah Smith, hosted a one-day public forum to progress action on fairer food policy and practice in South East Queensland. With colleagues at the QUT Centre for Sustainable Futures and the Brisbane Fair Food Alliance (a community advocacy group co-convened also by Kiah), the workshop brought together over 40 representatives from across SEQ's food system, including from Brisbane City Council, State Government, social enterprise, the social service sector (homelessness, food charities, food rescue), academia and civil society networks (e.g. Youth Food movement, Slow Food).  These stakeholders provide important on-the-ground insights into the complex relationships between food production-consumption, food waste, health, housing, hunger, poverty and social policy in SEQ. They aimed to identify opportunities for collaborative action towards a more sustainable, resilient and just food system in our region – for many attendees, it was the first time they had met with each other, signally just how fragmented food systems awareness and policy making are in the region. But it also revealed that there is substantial expertise in sustainable food system change in Brisbane, with many locally-appropriate solutions to address food justice. These include expanding urban agriculture, experimenting with 'circular food economies' and sustainable food procurement policies. Presently, the region does not have a local food plan, and the meaningful participation of civil society in partnership with government and private sector actors was identified as a key challenge moving forward. A local or regional food policy council would be one potential solution that many participants agreed to work towards.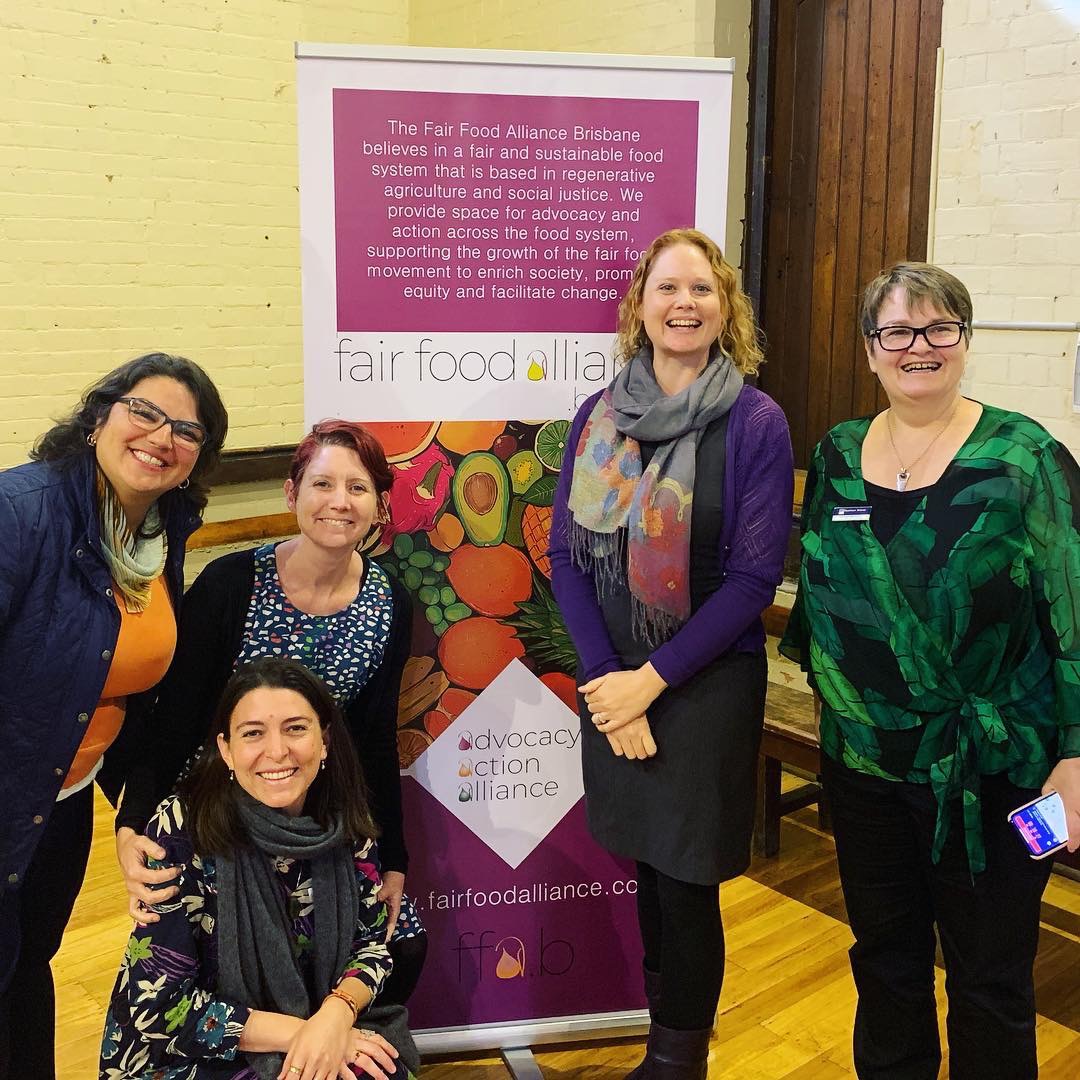 This workshop was part of Dr Smith's DECRA study on Fair Food Futures, Civil Society and the Sustainable Development Goals, supported also by a UQ Early Career Researcher grant. Her 4-year ARC project uses close participation with civil society to identify transformative pathways to sustainable and just food systems. The project emphasises the role of community food networks in 'localising' the SDGs. It also connects with her work on locally-appropriate SDG metrics and adaptive food systems governance.
The event was held at Trinity Commons 
This report presents 4 action points that participants - diverse community and organisational leaders who work on providing fair, resilient and locally-appropriate solutions to address hunger everyday – identified. We (the FFA.B team) have suggested additional steps that might be needed in order to move us closer – and more effectively - to the collective goals. The report also details the key messages presented by guest speakers and panellists on the day, all of whom have substantial expertise in sustainable food system change, as well as the contributions, questions and responses these raised.

Feedback from workshop participants highlighted how useful the day was for building on the food systems work that is already being done in SEQ. This report reinforces the importance of identifying common goals and challenges, filling knowledge gaps, strengthening networks and improving engagement around food system transformation. It is also evidence of strong public support for food justice concerns to be more central in policy discussions about sustainability, social justice, economics and civic participation.