Archaeology, Heritage and the Heritage of Archaeology
Presenter: Emeritus Professor Ian Lilley FSA FAHA
Lecture recording
About the lecture
Archaeological heritage has been big news lately, as the impact of Rio Tinto's Juukan Gorge debacle continues to reverberate around the planet, hard on the heels of the deliberate destruction of sites in conflicts in Africa, the Middle East and elsewhere. That said, archaeology has been prospering in most parts of the world with the ascent of the heritage industry. A prodigious amount of archaeological work is undertaken every day right around the planet in the name of heritage, employing vastly more archaeologists than all the universities and museums in the world combined. Driven directly or through 'trickle-down' by factors such as the rapid growth of UNESCO's World Heritage List and the wide influence of the World Bank's heritage and other safeguards, the future for 'archaeology-as-heritage' looks bright. But what is this so-called 'progress' doing to archaeology as a discipline? Our claims to scholarly authority and professional integrity are under ever-increasing pressure from planners and developers, descendants and locals, looters and collectors, and politicians and diplomats, few if any of whom have any real understanding of or sympathy for the basics much less the nuances of our craft. So what should we do? This lecture will canvass some of the possibilities, with a focus on Australia's role on the global stage.
About the presenter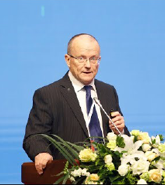 Ian Lilley is Professor Emeritus in the UQ School of Social Science, to where he moved after 25 years leading the academic program in UQ's Aboriginal and Torres Strait Islander Studies Unit. He is also the invited inaugural Willem Willems Chair for Contemporary Issues in Archaeological Heritage Management at Leiden University in the Netherlands. Ian has worked in Australasian and Indo-Pacific archaeology and heritage for over 40 years. He began his training at UQ, completing a BA Hons (First Class) and Research MA focussed on Southeast Queensland under Jay Hall's supervision. He then did his PhD at ANU working on ancient coastal trading systems in Papua New Guinea. After a period lecturing in Archaeology at UWA in Perth, Ian returned to UQ and while at the ATSIS Unit did archaeological research in Australia and New Caledonia. Ian is a Fellow and immediate-past International Secretary and Vice President of the Australian Academy of Humanities, a Fellow of the Society of Antiquaries of London, and a member of the Australian Institute of Aboriginal and Torres Strait Islander Studies. He served three consecutive terms as President of the Australian Archaeological Association, was Secretary of the World Archaeological Congress and is immediate past Secretary-General of the Indo-Pacific Prehistory Association. He is also immediate-past Secretary-General of the ICOMOS International Scientific Committee on Archaeological Heritage Management (ICAHM) and an ICOMOS World Heritage Assessor. He has undertaken numerous field and desk assessments and advisory missions concerning World Heritage nominations around the world and advised on proposed nominations in several countries including Australia. He also serves on two IUCN Commissions, and sits on the Advisory Group of a global IUCN-ICOMOS project on incorporating cultural heritage in the management of protected natural areas. ICOMOS and IUCN are the statutory Advisory Bodies to UNESCO on cultural and natural heritage respectively. In addition, Ian is a strategic advisor and subject matter expert for the Pentagon's POW/MIA Accounting Agency (DPAA), helping to reshape the agency's approach to field methods and interaction with local communities in the recovery of dead and missing US service members, particularly in the Indo-Pacific region. Under his oversight, UQ is searching for Brigadier Kenneth Walker in extreme terrain in New Britain, PNG. Walker is a Medal of Honor winner and the highest-ranking American still missing from any conflict, and the US Congress has prioritised his recovery. Ian has also worked on World Bank heritage issues for 15 years, most recently coordinating the response of the global archaeological heritage sector to the Bank's proposed (and now adopted) revisions to its social and environmental protection standards. He has advised on the development of cultural heritage legislation in Australia and other parts of the world, most recently Cambodia. He has produced a number of books and many papers on archaeology and heritage management and is currently contracted to Cambridge University Press to co-author a volume on Australian archaeology from initial human settlement to modern times.
Event Details
Registration: 5pm for a 5.15pm start 
Public Lecture: 5.15–6.15pm
Reception: 6.15–7.30pm
Location: GHD Auditorium, Level 3, Advanced Engineering Building (#49), The University of Queensland, St Lucia Campus. 
Enquiries: socialscience@uq.edu.au
The Hall Annual Lecture is given in honour of the founder of archaeology at The University of Queensland, Associate Professor Jay Hall.
This event is supported by the Everick Foundation. 

​Health and safety information
Stay at home if unwell or have a cough, fever, sore throat, fatigue or shortness of breath
If you become unwell during the event please let an event organiser know.
Maintaining physical distancing requirements is the individuals responsibility
Please do not attend the event if:
You have been in close contact with a person who is positive for COVID-19
You are positive for COVID-19
You have travelled overseas or to a declared COVID-19 hotspot in the previous 14 days
Attendees are encouraged to download the Check-In QLD app prior to attending the event.
About The Hall Annual Lecture
The Hall Annual Lecture is UQ Archaeology's annual public lecture in honour of the founder of archaeology at UQ, Associate Professor Jay Hall.
Associate Professor Jay Hall is the former Head of UQ's Archaeology program. As well as an award-winning teacher, Jay is the editor of Queensland Archaeological research - a publication he started in 1984. Jay retired in 2007 after more than 30 years at the University. He is currently an Adjunct Reader in Archaeology in the School of Social Science at UQ.
Venue
Advanced Engineering Building (#49), Level 3, The University of Queensland, St Lucia Campus