The Archaeology of Olive Oil: New Excavations at Khirbet Ghozlan in the Wadi ar-Rayyan, Jordan
Abstract
When the earliest urban systems of the southern Levant collapsed in the mid-3rd millennium BCE, the economy is thought to have contracted to simple forms of agro-pastoral subsistence. However, the appearance of several small, enclosed sites in upland areas suggests that post-collapse communities maintained a complex rural economy through the exploitation of different environmental zones.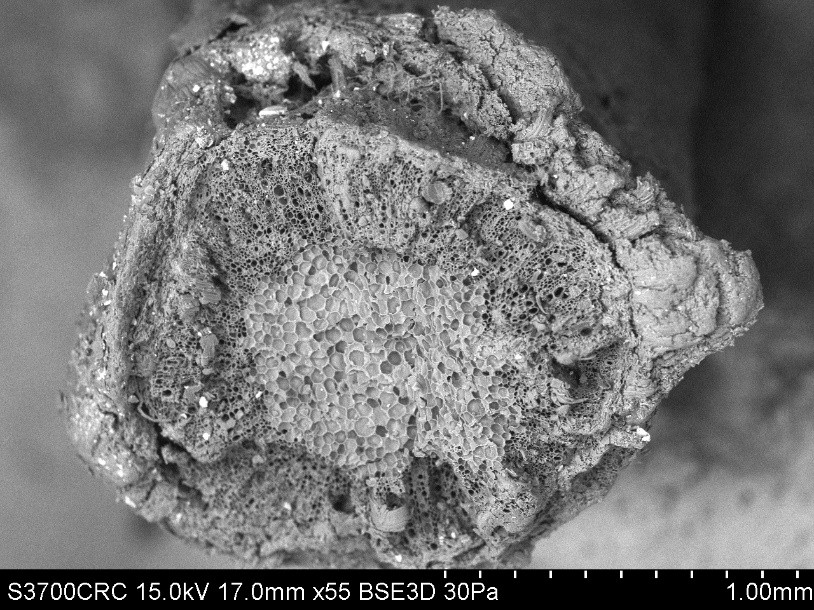 SEM image of carbonised olive sapling at Khirbet Ghozlan (Image by C Cartwright, courtesy of the Trustees of the British Museum)
This British Museum/University of Sydney excavation project investigates the 0.4 ha enclosure site of Khirbet Um al-Ghozlan, in Jordan's east rift escarpment. These excavations test the hypothesis that enclosure sites served as specialised processing centres for upland horticultural crops such as olive and grape, and were enclosed to protect seasonal caches of high value liquid commodities such as oil and wine. The implication is that so-called urban features such as monumental defense systems and specialised production were reconfigured within rural settlement networks in a period of
About the presenter
Dr Jamie Fraser has recently taken up the position of Curator for the Ancient Levant and Anatolia at the British Museum, until recently he was the Senior Curator at the Nicholson Museum (University of Sydney). He has worked on archaeological projects in Jordan, Syria, Iraq, Afghanistan, Uzbekistan, Kashmir, Greece, Cambodia and the Solomon Islands. His book Dolmens in the Levant was awarded the G. Ernest Wright Publication Award at the 2018 ASOR meeting. Jamie currently directs the Khirbet Ghozlan Excavation Project in Jordan.
About Archaeology Working Papers
The Working Papers in Archaeology seminar series provides a forum for dissemination of archaeological research and ideas amongst UQ archaeology students and staff. All students are invited to attend the series and postgraduate students, from honours upwards, are invited to present their research. The aim is to provide opportunities for students, staff and those from outside UQ, to present and discuss their work in an informal environment. It is hoped that anyone interested in current archaeological directions, both within and outside the School and University, will be able to attend and contribute to the series.
Venue
Please contact one of the organisers for access to the Zoom link