From Sovereignty to Modernity: Revisiting the Bureaucratic Reforms of the 19th century and the Transformation of the Buddhist imaginary in colonial Ceylon (Sri Lanka)
19 October 2017

3:00pm

–

4:00pm
Abstract
The Colebrooke-Cameron Reforms (1831) have been characterised by David Scott (1995) as marking the transformation of colonial Ceylon from one kind of political rationality - that of mercantile sovereignty, – to another – that of colonial governmentality. Whilst consonant with the view that the Commission marked a moment when the colonial administration moved away from a strategic reliance on Asokan or Buddhist forms of authority in the earliest phase of British rule, I argue that there is a more nuanced genealogy to this transition. The Reforms, while directed to the administrative, judicial and political institutions of the colony, also contemplated extensive commercial restructuring that inculcated a mode of self-improvement into 'everyday life'. But instead of marking a clear point of transformation, the Colebrooke-Cameron Reforms gave legibility to a process already under way, while providing further impetus to a socio-political rationality that had begun to shift decades prior. The taxonomic logic of these bureaucratic reforms and the subsequent reification of categories such as 'Sinhalese' and 'Buddhism' and the transformation of the Sinhalese revivalist moment into a nationalist movement changed the basis on which Sinhalese claims about the organization of the State would be made. While the Pali Chronicles expressed a specific Theravada consciousness, the impact of the revivalist movement, together with the Aryan theory of race, meant that in future the chronicles would become subjected to an epistemological revaluation that projected race onto the events of the past in order to inform both an anti-colonial and post-colonial agency.
About the Presenter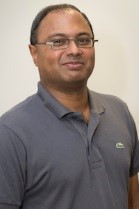 Dr Roshan de Silva-Wijeyeratne received his LLB from the School of Oriental and African Studies (University of London) in 1990 and he completed his doctorate at the University of Kent in 1999. He currently teaches in the School of Law at Griffith University where he convenes Property Law. He also teaches a course in Law, Culture and Anthropology. He has published extensively on Buddhism and Constitutionalism in Sri Lanka and in 2014 his book Nation, Constitutionalism and Buddhism in Sri Lanka was published by Routledge. He is currently working on the genealogy of Buddhist Constitutionalism in Theravada Buddhist Asia. 
About Anthropology Working Papers
The Anthropology Working Papers have moved online. Unfortunately we have been required to update our security settings to reduce the chances of 'Zoom Bombing.' If you would like to attend this seminar please email Ngaire Dowse (n.dowse@uq.edu.au) for access information.
The Working Papers in Anthropology seminar series provides a forum for dissemination of anthropological research and ideas among UQ scholars and invited researchers. All students are invited to attend the series and postgraduate students, from honours upwards, are invited to present their research. The aim is to provide opportunities for students, staff and those from outside UQ, to present and discuss their work in an informal environment.
If you are interested in presenting, please complete the Expression of Interest form
Venue
Level 4, Michie Building (09), St Lucia campus, The University of Queensland