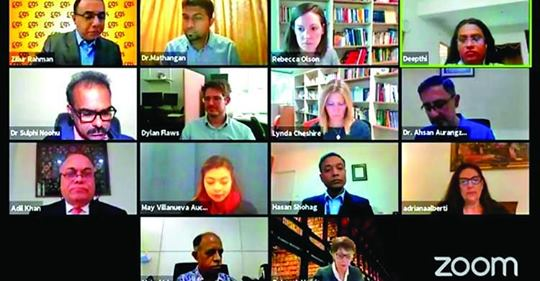 Held on Monday 27 July 2020, 10am-12pm (Dhaka Time) and jointly organised by the Centre for Governance Studies, Dhaka, Bangladesh and The University of Queensland's School of Social Science, the webinar 'COVID-19 and frontline responders: Health professional perspectives of Australasia and South Asia' brought together ten COVID-19 frontline health responders – doctors, nurses and medicos – five each from Australasia and South Asia respectively*. 230 plus participants from all over the world registered and attended the event.
The key objective of the webinar was to share and learn from each other the experiences of COVID-19 management from frontline health responders from Australasia/South Asia. 
The webinar is available to watch online below. 
Opening
The webinar was opened by Mr. Zillur Rahman, Executive Director of the Centre for Governance Studies (CGS), Dhaka, Bangladesh and was moderated jointly by Mr. Zillur Rahman of CGS and Dr. Rebecca Olson, from The University of Queensland's School of Social Science. 
Professor M. Adil Khan from The University of Queensland's School of Social Science presented objectives and expected outcomes, and at the end, summarised the lessons learnt and outlined future follow-up actions.
Webinar Objectives
Facilitate cross-cultural learning of successes and difficulties, encountered by the frontline responders in treating/handling COVID-19 patients
Appreciate the nexus between governance, policy, service provisions and service delivery at the frontline
Appreciate safety, security and emotional/trauma aspects of frontline responders and importance of support services for trauma mitigations
Create opportunities for networks and peer-to-peer dialoguing and explore options of establishing a platform for on-going information exchange for problem-solving
Continue policy research, publication, information dissemination
Webinar Lessons
Country contexts of challenges of COVID-19 vary but solutions follow certain common parameters
Safety, security, trauma aspects of frontline responders are crucial
An all-encompassing governance framework key to success
Frontline health responders are the most credible sources of information for policy/strategies
Awareness building, research and publications, in-country and cross-country networking/Partnerships/Dialoguing are key to addressing the challenges successfully
Professor Lynda Cheshire, Head of School of Social Science, The University of Queensland and Ms. Adriana Alberti, Chief, Capacity Development Unit, Division of Public Institutions and Digital Government (DPIDG) of the United Nations Department of Economic and Social Affairs (UNDESA), New York, USA inaugurated the webinar. In their welcoming remarks both thanked the organisers, panellists and the participants and highlighted the importance of such international webinars at this difficult pandemic time in helping each other through sharing experiences. They hoped that by promoting dialogue, research and sharing information among the peers, the webinar would contribute to formulation of policies, devising strategies and bolstering capacities of institutions and delivering services that are essential in containing and abating the scourge, a pandemic that has engulfed the entire world.
Ms. Alberti of UN, in her opening statement reminded that such dialogues and partnerships are key to advancing the wellbeing of all citizens across nations and to the realisation of the 2015-2030 UN Sustainable Development Goals (SDGs).
Summary of proceedings/lessons learnt 
The webinar focused on two key broad aspects of COVID-19 issues, namely (i) institutional arrangements, measures and provisions that have since been undertaken in Australasia/South Asian countries to treat COVID-19 patients at the hospital and community level; and secondly, (ii) issues relating to safety, security, wellbeing and trauma management of frontline health responders. The following summarises the discussions and lessons learnt: 
Country contexts of challenges of COVID-19 vary but solutions follow certain common parameters
It has been revealed that although political, economic, social and resource contexts of countries like Australasia (Australia and New Zealand) and South Asia vary, preparedness and quality and promptness of delivery of services have relied mainly on non-resource factors such as appreciation and proper assessment of the magnitude and nature of the problem, empathy, leadership, enabling governance and strategic planning arrangements and efficient public health systems with grass-root outreaches. For example, in South Asia, India's (Kerala) and Sri Lanka's early preparedness and their well-functioning health systems with community level outreaches combined with early proactive actions have greatly helped in stemming the spread of the virus and successful treatment and minimisation of fatalities of COVID patients. Similarly, Australia and New Zealand examples have demonstrated how early preparedness, commitment of top leadership, strategic planning and functioning public health systems with rural/regional outreaches accompanied by significant organisational restructuring at the hospitals and most importantly policy/service delivery interface helped in stemming the spread and successful treatment of the patients and minimisation of fatalities. In this regard, Nepal's case has been a shining example of how a remote location with meagre resources successfully tackled the pandemic mainly, through local level leadership, commitment, dedication and pro-active thinking and through innovative mobilisation of local resources. Another interesting case is Bangladesh - while various recent newspaper reports have suggested that COVID-19 has put Bangladesh's public health system in enormous stress, the Bangladesh panellist at the webinar, a nurse from a leading private hospital, reported that her hospital had put in place adequate structures, processes and provisions that have since ensured COVID efficient treatment of the patients and a COVID safe environment for the doctors, nurses and medicos.
Safety, security, trauma aspects of frontline responders, a crucial aspect
Adequate provisions of safety, security of and arrangements for addressing the fear, stress and trauma issues of frontline responders with gendered distinctions are crucial. Both Australia and New Zealand have put in place several tools and institutional arrangements to deal with trauma and stress aspects of frontline health responders. For example, the panellist from the Gold Coast University Hospital in Queensland, Australia informed that they introduced a peer support system called 'Always-there-peer program' to provide emotional and practical support to health workers by the trained peers and in addition, the state Government of Queensland's (Queensland is one of the six states in Australia) Health Department had introduced 'Employee wellbeing program' through which health employees can access social, emotional, physical, financial and workplace wellbeing support. Similarly, the New Zealand panellist, a COVID nurse from the Auckland Hospital reported of a similar peer-support programme called, "Buddy" system in their hospital where peers counsel the frontline doctors, nurses and medicos in the hospital on a regular basis.
An all-encompassing governance framework
A COVID-19 all-encompassing governance framework that interfaces regularly with the frontline responders and health institutions, both clinical and epidemiological, at all levels - national, sub-national and local levels - and connects with the policy levels and the research community, enhances the capacity to  service, manage, monitor and cure and contain the spread and mitigate the crisis cohesively and more effectively.
For example, New Zealand Prime Minister's pro-active and firm leadership in addressing her country's COVID crisis that helped in connecting the frontline workers with scientific community greatly contributed to its formulation of an unambiguous, uniform, firm and successful strategy to manage the crisis in the country. Australia also followed a similar uniform policy strategy.
Unlike New Zealand and Australia where leadership came from top, in some South Asian countries such as Sri Lanka, India (Kerala) and Nepal, initial leadership came from their sub-national health systems where the pandemic hit first and central governments in these countries quickly responded to and embraced and incorporated local lessons into national strategies.
Frontline health responders are the most credible sources of information for policy
Frontline Health Responders- doctors, nurses, contact tracers, cleaners etc. - who bear the brunt of COVID-19 challenges daily, have the most practical insights into the challenges and workable solutions. Panellists have revealed that early embrace of experiences of frontline responders have greatly helped in the formulation of suitable COVID policies and strategies, both at the hospital and at community level. which have also demonstrated that continuous dialogue and interface between the health responders at the ground level and policy managers at the hospital, the community, sub-national and national levels are key to successful management of COVID risks.
Follow-up actions
The panellists/organisers agreed to/envisaged the following follow-up actions:
Awareness building, research and publications
In order to build public awareness and suitable policy responses, the webinar organisers have committed to deepen research and publish both op-ed type articles for immediate policy dialogue and academic articles for knowledge development.
Networking/Partnerships/Dialoguing
The webinar has revealed that continuous dialogues among the frontline responders both within and across nations is key to improving approaches to COVID-19 crisis whose nature and characteristics change all the time. The panelists/organisers have thus committed themselves to responding to follow up queries through social media/email etc.
In their post-webinar follow-up emails to the organisers, the Australian and New Zealand panelists have already informed that they remain committed to assist their South Asian colleagues in every possible manner they can.
Steps would also be taken to facilitate in-country and cross-country peer networking/partnerships and dialoguing on continuous and cross-cultural basis. In this regard, an example of an interesting if not a unique North/South partnership model that has emerged lately that in Australia that connects Australia with Bangladesh, a partnership that combines access to knowledge of superior technology with cultural sensitivity has been cited at the webinar. This North/South partnership relates to a unique model of Australia/Bangladesh COVID-19 informal and yet effective collegial professional collaboration.
Many Bangladeshi origin doctors who work in Australia, have formed a group called, Federation of Bangladesh Medical Societies of Australia (FBMSA). Through webinars and other social media platforms FBMSA members regularly dialogue and share information with their peers both within Australia and with those based in Bangladesh, through the Bangladesh Medical Association and exchange ideas (mainly clinical) on COVID-19 aspects containment and treatment aspects.  The striking aspect of this partnership is that the members of FBMSA, who are originally from Bangladesh and now practise in Australia combine in them the knowledge of and access to the most advanced technologies and methods in Australia and at the same time they are also fully sensitive to and aware of the needs as well as the limitations of Bangladesh. This positions them uniquely to offer suggestions that are desirable and yet, doable in the Bangladeshi context.
In order to forge a broader South Asia/Australia health dialogues on COVID-19 efforts may be made to expand FBMSA model to include South Asian doctors in Australia as a whole and link them up to their COVID-19 counterparts, the frontline health responders in South Asia and share knowledge on a regular basis.
The webinar ended with a vote of thanks from Mr. Zillur Rahman, Executive Director, Centre for Governance Studies, Dhaka, Bangladesh – the lead organiser of the webinar.
---
*Australia: Dr Hasan Shohag, A/Prof Dylan Flaws Dylan.Flaws, Dr Marc Ziegenfuss; New Zealand: Ms May Villamor, Nurse,  Dr Deborah Harris, Practitioner/Nursing Academic/Researcher; South Asia: Bangladesh Deepti Bisht, Nurse (Bangladesh), Dr. Sulphi Noohu (India - Kerala), Dr. Sangeeta Mishra, Physician, (Nepal), Dr. Ahsan Aurangzeb, Physician (Pakistan), Dr. S. Mathangan, Physician, (Sri Lanka)           ​