Over four days in May 2018, Indigenous community thinkers, researchers and academics from Chile and Australia got together in Brisbane and Stradbroke Island to critically discuss the problematics of extraction, development and Indigenous community sustainability. We considered how legislation recognising Indigenous peoples' rights to consultation prior to development impacts such as mining projects, forestry projects or other forms of extraction have brought enormous pressure and potential threats, as well as opportunities, for communities in Australia and Chile. We asked, in what ways do Indigenous peoples in these nations seek to manage consultation and negotiation with powerful interests, gain development advantages, or to resist extraction processes? Researchers and community thinkers considered ways to collaborate for knowledge or development outcomes, and in the activities we thought about how such outcomes may be improved.
The group began our collaborative thinking during a walking tour of Brisbane. Alex Bond and Paul Memmott spoke about the history of the area and the ways in which the city is a living Aboriginal landscape underlain with indigenous placenames and overlaid with the intensity of urban Aboriginal life, being and identity in the present.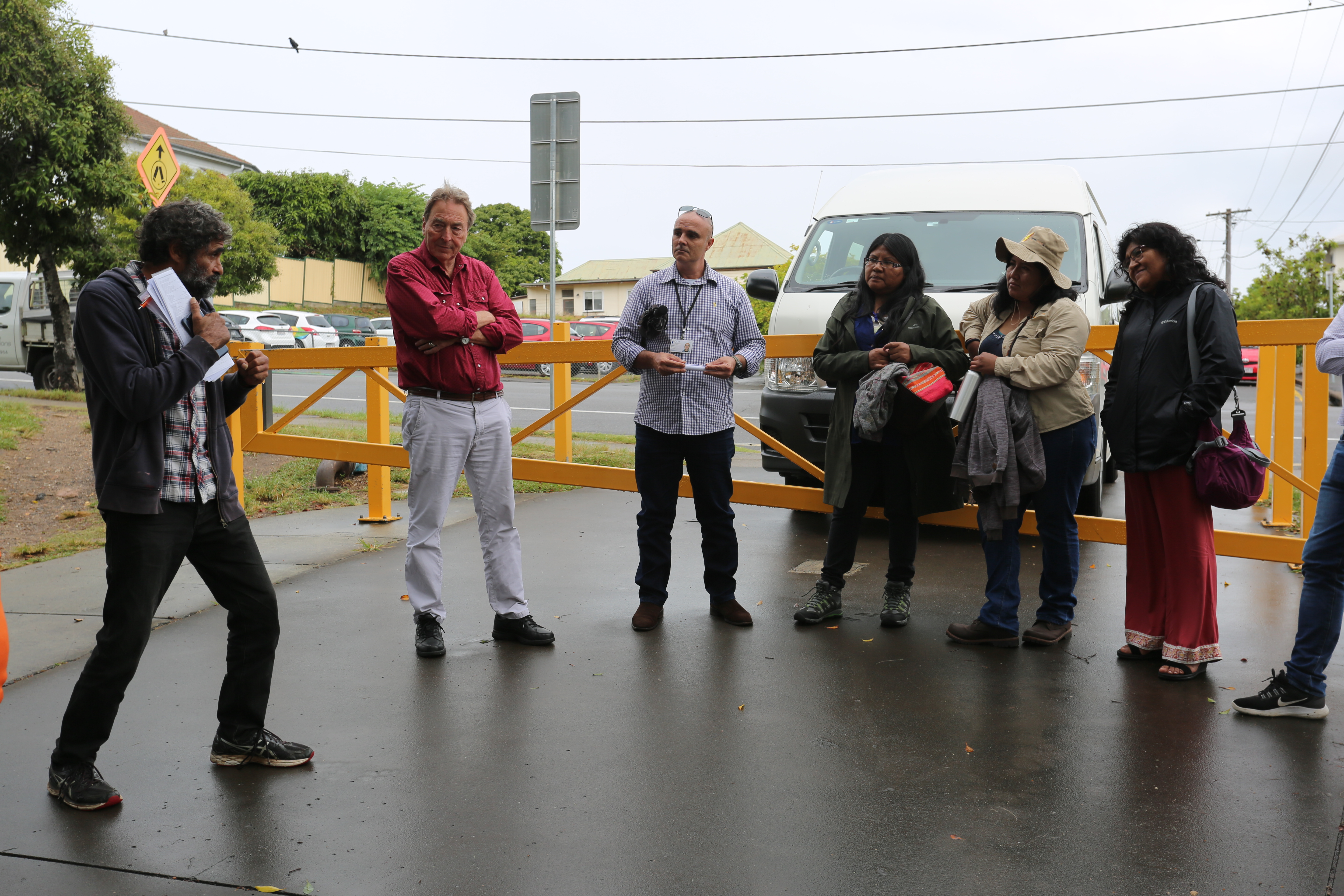 We then travelled to Stradbroke Island where a representative of the Quandamooka Yoolooburrabee Aboriginal Corporation (QYAC) welcomed our group.
The following day, we laid further ground work for discussion by taking a field trip of the Island, hosted by environment specialist Brian Coghill, of GoorieMooka Tours.
With photographs, maps and rich narrative, Brian described how, for Quandamooka peoples, it is a highly complex enterprise to incorporate Aboriginal management of country especially as this important cultural area is also subject to mining leases, National Parks, International Conservation (RAMSAR), Native Title and other land tenure. We discussed the incorporation of Indigenous knowledge into planning and management of Stradbroke's ecology and biodiversity as well as economy, with all the management complexities this entails, and the fieldtrip as a whole had us deeply contemplating our different development questions and the innovative thinking needed to address them.
The UQ Moreton Bay Research Station conference room hosted our afternoon discussion and Mr Charles Passi chaired the exchange. Participants in the discussion (here in the order of introductions on the day) included; Dianne Nicholls (Tjungundji elder and member of the Old Mapoon Aboriginal Corporation), Patricia Dallachy (Gudjal elder and Board member of the North Queensland Land Council), Paul Memmott (Anthropologist & Architect ISSR & AERC, UQ), Dale Ruska (Goorumpul Goorie owner and One Mile Residents Aboriginal Corporation, Stradbroke Island), ConnieWebb (One Mile RAC, Stradbroke Island), Tracey Kaden (One Mile Community RAC, Stradbroke Island) Piero Di Giminiani (anthropologist, Universidad Catolica and Centre for Intercultural and Indigenous Research, CIIR, Chile), Manuel Prieto (geographer, Universidad Catolica del Norte and CIIR), Karina Yager (anthropologist, Stony Brook University, New York), Nigel Wight (PhD candidate, Centre for Social Responsibility in Mining, UQ), Brian Coghill (Goorumpul people, Stradbroke Island), Pekeri Ruska (Goorumpul and One Mile Community, Stradbroke Island), Sally Babidge (anthropologist, University of Queensland), Ana Ramos (President of the Atacamanian Peoples Council, Chile), Oriana Mora (Indigenous Community of Peine, Chile), Fernanda Kalazich (archaeologist, Universidad Catolica del Norte), Judith Cruz (Indigenous Community of Peine, Chile), Dante Choque (CIIR, Chile).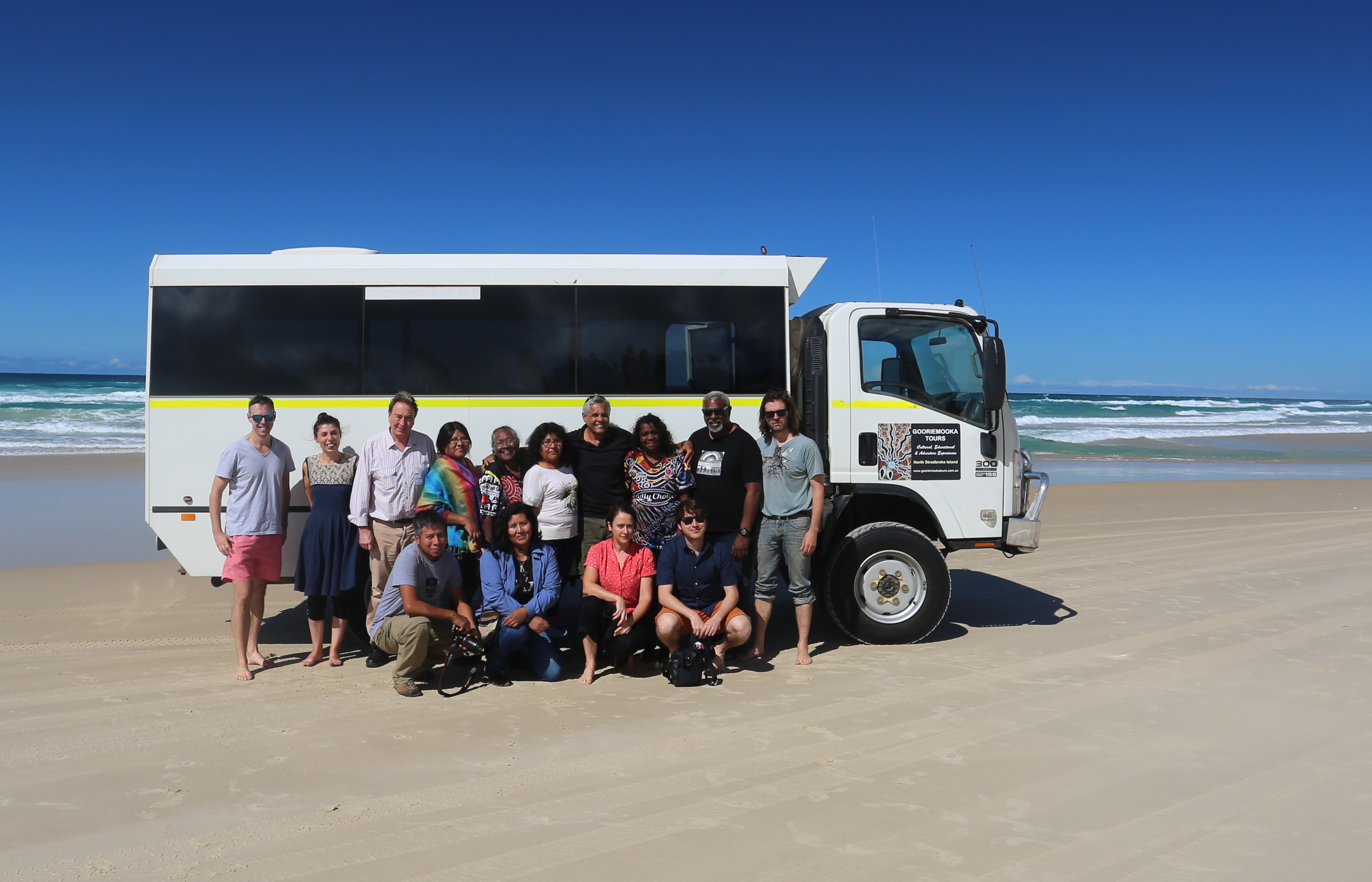 Charles Passi as Chair, led the discussion in which different speakers emphasised the limitations of recognition of native title in Australia, and the Chilean speakers emphasised the problems with legal recognition of indigenous rights in Chile (Indigenous Law). Stronger recognition of indigenous rights to manage resources in the contemporary world would be a step toward beginning to address social and environmental injustices. In the case of both Australia and Chile, speakers asserted that a range of new approaches is sorely needed and new responses to the realities of Indigenous peoples lives must be found.
Our Public Symposium (see photo below) , held at the Global Change Institute on Friday 11th May, was opened by the University of Queensland's recently appointed Pro-Vice-Chancellor (Indigenous Engagement), Professor Bronwyn Fredericks. Professor Frederick's welcome of participants to the University was followed by a short introduction to the comparative context of 'extractivism' and legislative forms of the recognition of indigenous peoples in Chile and Australia by Sally Babidge.
Colin Saltmere, of Myuma Group, Sara MacKenzie of the Centre for Social Responsibility in Mining (UQ) and Ana Ramos of the Atacamanian Peoples Council each took a descriptive and critical approach based on their own experiences regarding the question of potential for community development in Chile and Australia as a result of extractive activities.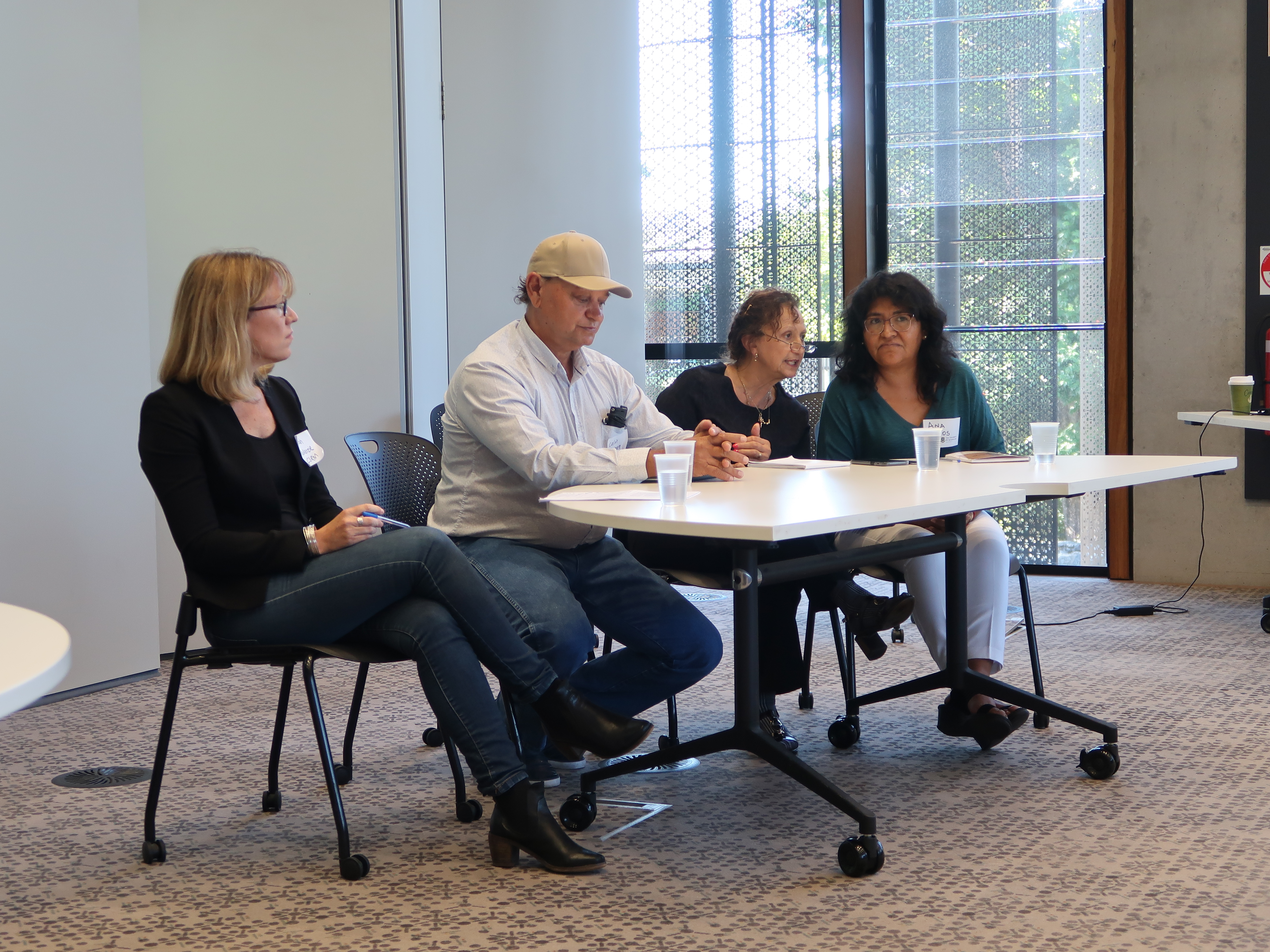 Based on his recently completed doctoral research regarding water extraction in Region I of Chile, Dante Choque (CIIR) spoke about how political authorities make space for mining company extraction at the expense of indigenous water resources. Mary Jean Sutton (Virtus Heritage) and Diane Nicholls (Mapoon/ Tjkungunji) spoke about unprotected and largely unknown mortuary landscape around Mapoon in northeast Cape York, Queensland, and noted the ways in which archaeological and cultural values are under threat from mining. Also in this session, Dale and Pekeri Ruska argued that sand mining and the accumulation of extractive industry effects and western law and management has meant slow degeneration and irreversible impacts on their country. He finished his talk by calling for a truth commission in Australia, needed to address the ongoing effects of colonialism such as unwanted extraction processes.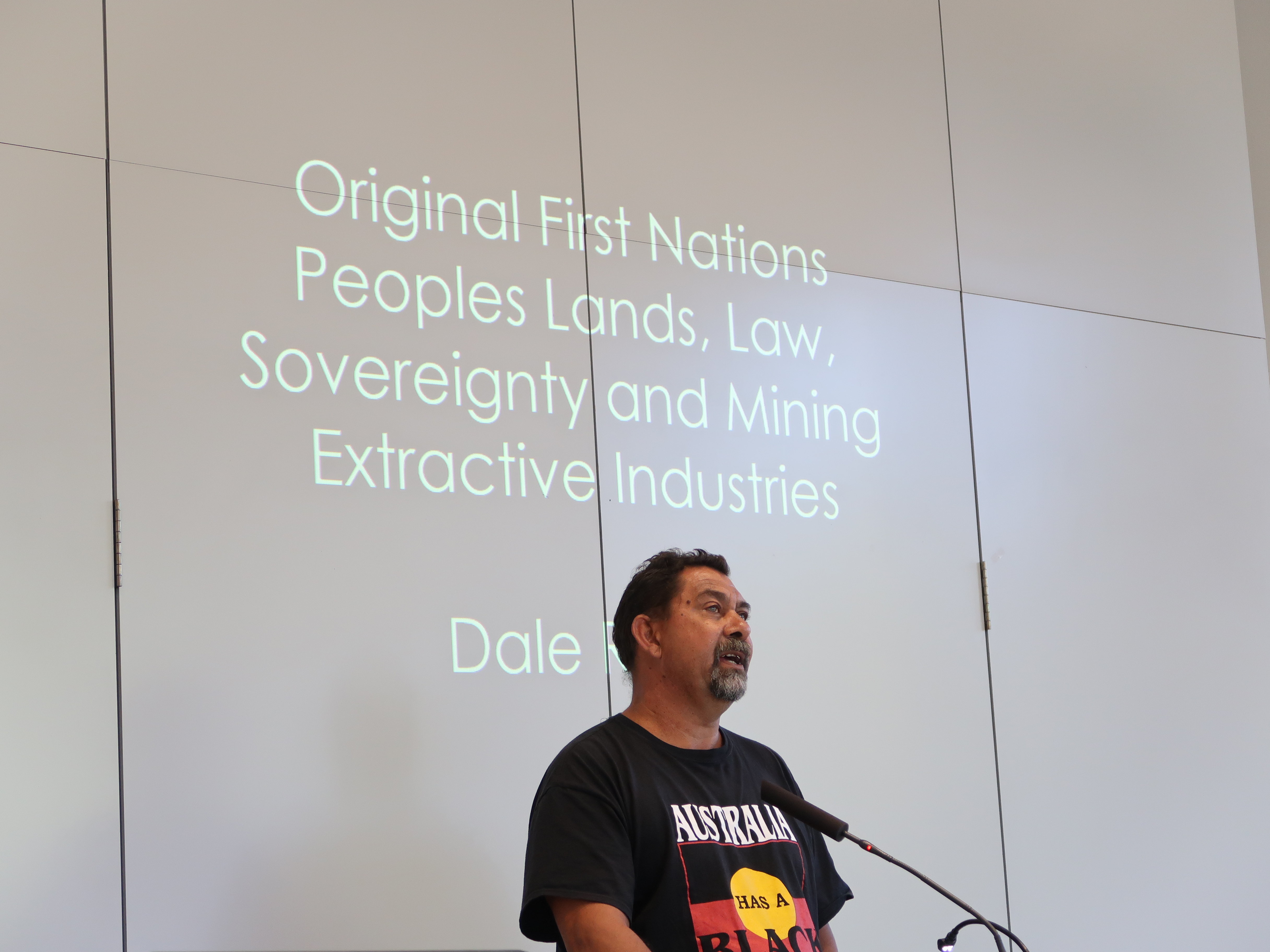 The session after lunch included four academic research presentations. Fernanda Kalazich (UCN) spoke about the limitations of the Chilean National Monuments Act, in particular the ways in which National Protection is difficult to use for intangible things, and the ways in which hard-won protection of heritage places under the act can mean a loss of community authority over those things. Piero Di Giminiani (UC) spoke about his experience in the south of Chile with Mapuche land claims, where Mapuche farmers face the problem that environmental protections clash with their farming practices. Piero argued that not being involved in the land claims process can be a form of political refusal where farmers do so in order to continue their way of life. Nigel Wight (CSRM) spoke about his doctoral research in northern Chile close to the Pascua Lama project, in which Barrick gold has been seeking to remove glaciers as part of their extractive process. His account of the complexities of the case foregrounded the ways in which different community groups may receive independent researchers or refuse them in diverse ways in such high conflict contexts. These papers each illustrated the point made explicit by Piero; that collaboration between researchers and community is not a solution to the questions of development and sustainability, but a process with its own dynamics and problematics.
The paper given by Manuel Prieto (UCN) and Karina Yager (Stony Brook) gave us an overview of their research in different areas of the north of Chile and Bolivia, where indigenous pastoralists and herders have been actively creating the high country wetlands (bofedales) through irrigation. These wetlands are not just under threat from extraction, but also affected by climate change and herders not continuing their territorial practices of irrigation. Their argument about how Andean herders have created ecological areas had strong parallels to discussions on Stradbroke Island about how active Indigenous management of ecology, biodiversity, and landscapes through time are key to the survival of environments and people.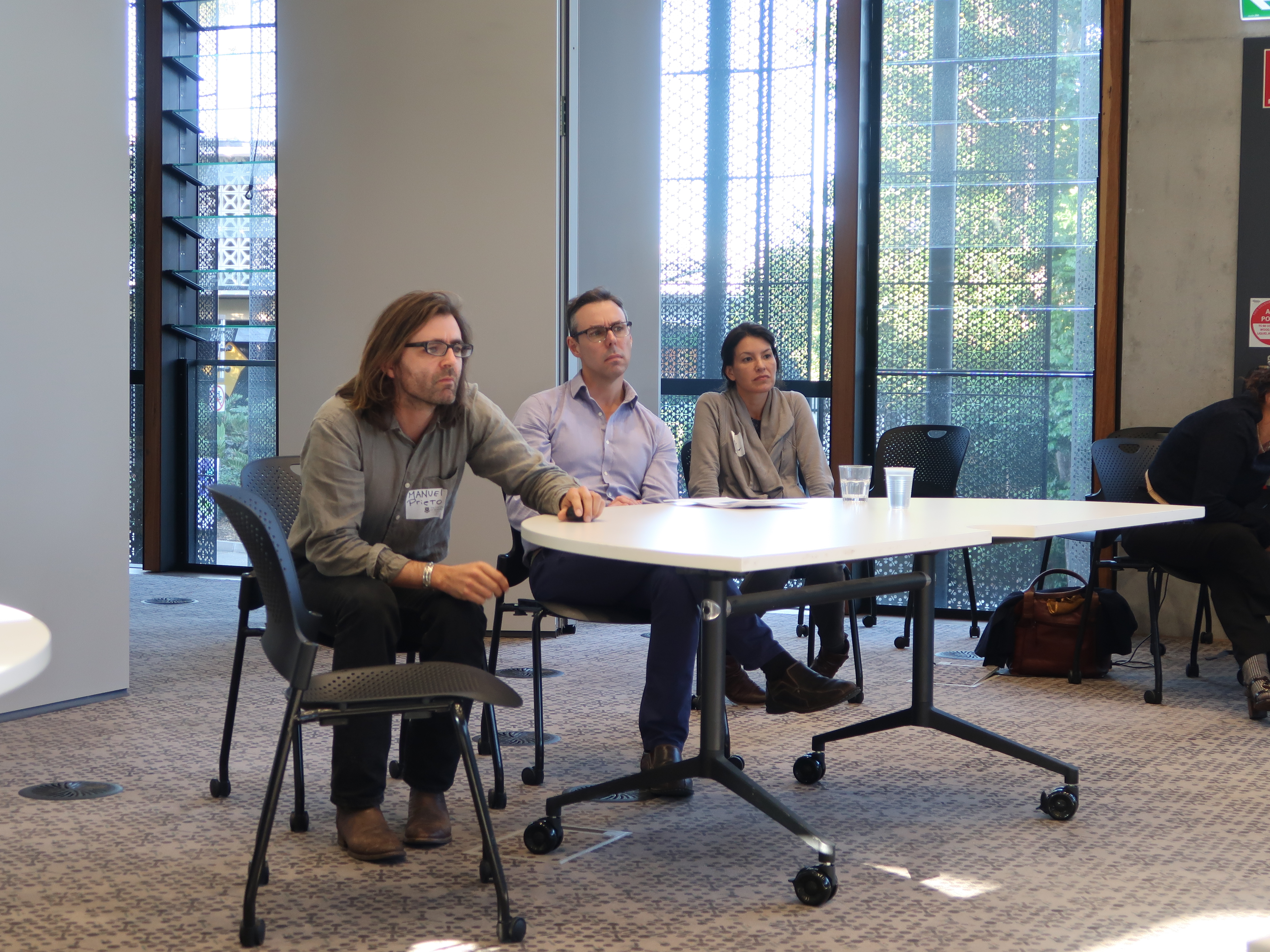 The final discussion session was opened by Judith Cruz and Oriana Mora from the Indigenous community of Peine. Judith spoke about Peine as ancestral town and the current situation where there are seven different mining operations thirsty for water, creating a range of impacts on their daily lives. Oriana spoke about the 'double problem of participation' in mining impact consultations; that limited the way in which they might participate in consultation and tied them to particular development outcomes. To finish, Sarah Holcombe and Rodger Barnes, both from CSRM, with long experience of the context of extractive industries in Central Australia, and Charles Passi speaking about country in the Torres Strait Islands, spoke on a panel chaired by Paul Memmott.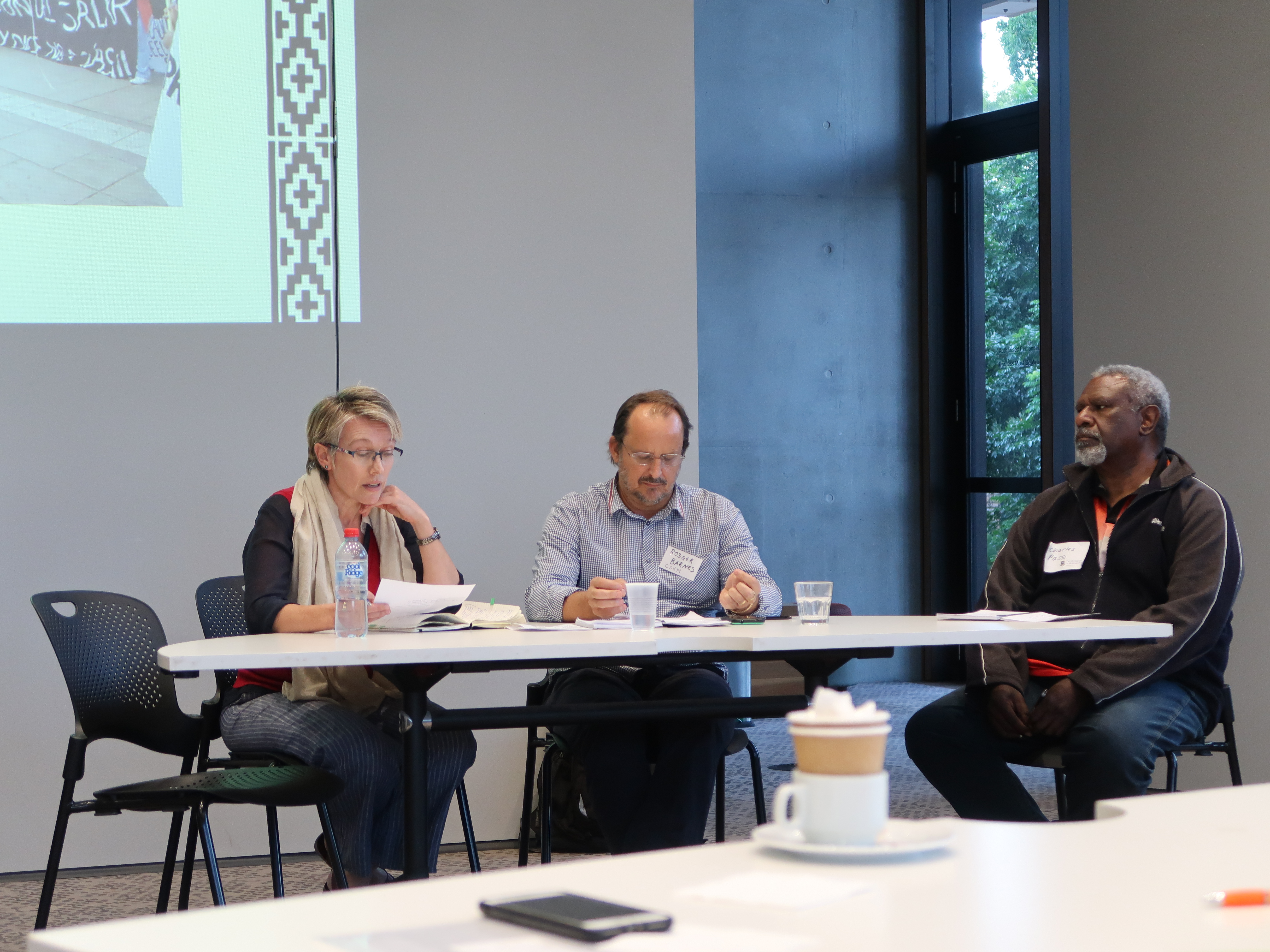 As a final point, Charles urged us to think about the ways that the indigenous concept of land is always interrelated with people, responsibility and compromise.
Participants in the activities are already planning future activities, conversations, campaigns and collaborative research to follow these conversations into action.
The week's activities were designed and organised by Sally Babidge, Paul Memmott, Deanna Kemp, Brian Coghill, Dale Ruska, Alex Bond and Cathy Keys. We are very thankful for the assistance of Nigel Wight, Linda Thomson, Diana Romano and Amelia Radke, and grateful to all the participants for their efforts in discussion and translation. We especially thank our international guests from Chile, Ana Ramos, Judith Cruz, Oriana Mora, Dante Choque and family, Fernanda Kalazich, Piero DiGiminiani, Manuel Prieto and Karina Yager (from the US) for coming to Queensland and participating in the discussion. We also thank all of the sponsors of this event:
Global Partnerships office, The University of Queensland
Indigenous Design Place, UQ
Faculty of Humanities and Social Sciences, UQ and the School of Social Science
Universidad Católica del Norte, Chile
Pontifica Universidad Católica, Chile
Centre for Intercultural and Indigenous Research (CIIR), Chile
Centre for Social Responsibility in Mining, UQ
North Queensland Land Council
Virtus Heritage
The Global Change Institute
Thanks to the UQ Moreton Bay Research Station who hosted us on Stradbroke Island.